Grilled chicken curry
Here is a dish we had last week. It seems to have captured the heart of my husband as well as my three children. As it happened, we enjoyed it on a shabat evening dinner, the occasion for special dishes, small surprises and spending some time together. Since l have three teenagers at home with plans and priorities, I went for something quick. And since one of my boys wanted something Indian, this recipe came to my mind.
It contains aromatic spices, soya sauce, coconut milk and chicken. Easy to prepare and in less than an hour you can have it ready. You can prepare it in advance and grill the chicken just before serving.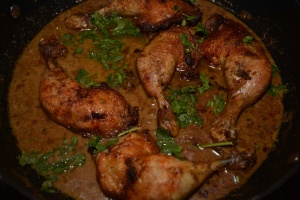 The recipe is for five.
2 tbs vegetable oil
five chicken tights
1 medium onion finely chopped
1 tsp fresh lemon grass finely chopped
2 tbsp ground coriander
1 tbsp ground cumin
1  tsp ground cardamon
1/2 tsp ground cloves
1/2 tsp chili powder
2 cans coconut cream
1 tbsp soya sauce
1/4 cup of chopped fresh coriander
Heat oil in large saucepan. Add chicken, turning and removing it when brown on all sides.
Add the onion and stir until soft. Add garlic, lemon grass and all the spices and stir on medium heat for a few minutes.
Add the chicken to the pan, coat it with the sauce mixture and stir in the coconut cream. Bring to a boil. Reduce heat, cover and simmer until tender.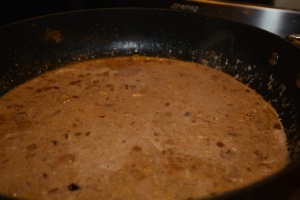 Remove chicken and put it under hot grill until crisp all over. Boil sauce until reduced by a third.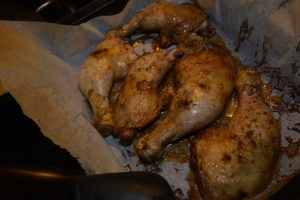 Stir in fresh coriander, add the chicken and serve with white Basmati rice and nan bread. (will come soon). I used just one can of coconut and that worked just fine.
This recipe was a big success in our home. It  produced a lot of compliments and  left everyone with a happy smile.
Annonser
---
Kommentarer