Ok, so let me tell you about this carrot sauce/dip, which is a must. Its good, so good that once you try it, it will be hard to stop.
It is vegetarian, vegan and raw food, has a strong orange colour, a thick consistency and not a smooth texture but sweet and gentle. After I started to make it, we found that it goes with almost everything. It works as a spread on bread, as sauce on cooked vegetables, a delicious dip or as a supplement with dinner.
The recipe is from a cook by the name Ruthi Rosso who with a girlfriend discovered it at the 7 A diner in New York. The recipe was kept  a secret but they managed to find the ingredients and reconstruct it. There are several versions, including an asiatic.
Mine is a combination of  several of these.
I made it with less oil and l use olive oil instead of rape oil.
My version is as follows:
– 3-4 medium size carrot chopped coarsely
– 1/4 of onion, I prefer red
-1 cm of fresh ginger
-2 tsp 5% vinegar
-2 tsp lemon
-1 1/2 tbsp sugar.
-75 ml rape or olive oil, (the recipe says 150 ml)
-1-2 tsp soya sauce
-1/2 tsp salt
-1 1/2-2 tsp sesame oil
-a bit of warm water
Put carrot, onion and ginger in a blender. Add sugar, vinegar and lemon. Blend ingredients. Continue adding soya sauce, sesame oil and blend more. Then add olive oil  as well as some warm water for the right consistency. The liquid will make it more smooth and homogenic.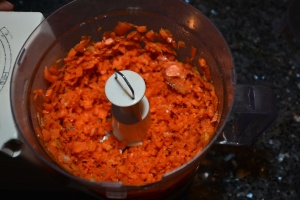 Adjust the taste with some salt, if needed. The sugar should also be added according to taste, as carrot can be quite sweet. Following the original recipe with 150 ml of oil will give a more smooth liquidy texture.
It can be served with meatballs, roasted chicken, fish from the oven, roasted vegetables, dipping with a pita. Also good with grilled food in the summer.
After trying this recipe, I thought it would work as well with beetroot. Substitute the carrot with one medium to big beetroot. Otherwise the rest is unchanged.  Both will go very well with tahine sauce – coming soon.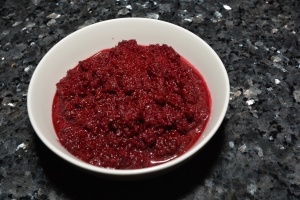 I hope you will enjoy this as much as I have, giving you – foodpleasures..
Annonser
---