Cold coconut soup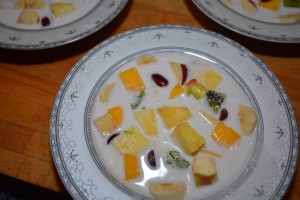 This time a want to share with you a dessert. It's oriental, colorful and slightly different. It is not heavy, not too sweet But most of all, it's easy to prepare. We recently had it with some friends who came over. And they very much liked it!
This is a Thai dessert that is used with banana. It is usually served warm but my recipe is served cold. To make a new twist, I decided to add to banana different fruits, mostly tropical. I used mango, ananas, kiwi, grapes as well as some apple. I add crushed lemon grass in addition to the traditional recipe and chose not to use 1/2 tsp jasmine essence. The recipe is for four-five.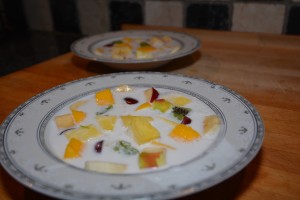 You need the following before adding the fruit;
500 ml coconut cream
1/2 cup coconut or brown sugar
1/2 cup of water
2-3 spoons of coconut powder
Do as follows;
Combine above ingredients in a casserole. Bring to boil, reduce heat and simmer for  some minutes. After cooling it down and pouring it in the plates, added 1/2  a  mango,  a quarter of an ananas, 1 banana, 2 kiwi, 1/2 an apple and some halved grapes. All the fruits are roughly cut in cubes.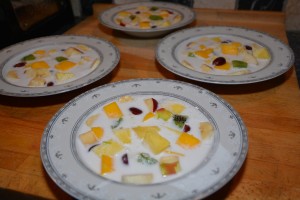 I did not thicken the soup, but due to the added coconut powder, it got the right consistency. You can add some lime to freshen the taste. Feel free to try and experiment for yourselves. The white background with the chopped tropical fruit, makes a nice contrast. As well as an interesting celebration of tastes in the mouth.
P.S. Sorry for the fact that the pictures are not as sharp as they should. They were taken during the time of preparation and it all went rather fast…
Annonser
---