Mung bean greens casserole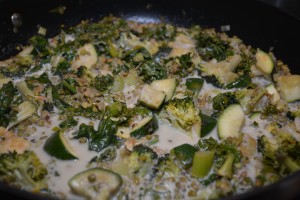 As part of a healthy eating, l focus on preparing a variation of vegetables of different kind and color, including beans and healthy spices as well as green fresh herbs.
Part of the weekly dinners are vegan/vegetarian and today l made a mung beans green casserole. It is very nutritious and contains lots of proteins, fibers, iron and minerals, almost like meat. Research also have showed that they can prevent heart disease as well as different forms of cancer.
Mung beans are originally from India and have a place in the Asiatic kitchen. They are easy to prepare and don't need to be pre-soaked, like other type of beans.
This dish is adapted from the blog «Greenkitchensories.com».
You need the following for 4-6 people:
2 cups dried mung beans, cooked
1 tbsp coconut or olive oil
1 onion finely chopped
1 cm ginger, finely chopped
2 cloves of garlic, finely chopped
1 celery stalk, chopped in cubes
100 gr kale leaves, chopped
200 gr spinach
200 gr broccoli
1/2 zucchini chopped
1 tsp ground cumin
2 tbsp lemon
1 small fresh or dry chili
1 can of 400 ml coconut milk or cream
1 tsp salt
1/2 tsp turmeric or grated fresh, optional
Heat oil in casserole and add onion, ginger, garlic and cumin. Stir and when it get's color, add the greens. Add the cooked mung beans and the coconut. Add some water if too thick. Bring to boil and cook for approximately 5-10 minutes.
If you soak and prepare beans overnight, cook them, to later freeze them in portions, you will have them ready whenever you need them.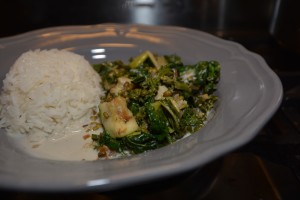 Annonser
---
Kommentarer