Baguette Mania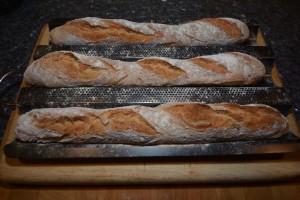 In my passion for baking, I want to get the product as close as I can to the real thing. Since my childhood, l had this attraction and wish to learn the magic of baking. Baguette was one of those things that l had on my list to do. After years of baking bread l went on trying different recipes of baguettes.  And believe me l tried.
I experimented with sour dough, with biga (a dough that you raised in advanced) and other that l raised for many  hours. It was so important for me to arrive as close as possible to the real thing, the crunchy crust and soft inside with holes, that makes you to want more with every bite. But then l came across a simple way to do it with no fuss and great taste. I thought l would give it a try. l am very pleased with the result but l doubled and changed the quantities. From the original recipe you will get 3 baguette but with mine 6.
One more thing; with a normal all purpose flour or bread flour, you will be able to get a fine result but if you will use 00 Italian flour, the final result will be the real thing.
prep time; 10 min   baking time: 30 min 
1 kg of 00 flour /all purpose flour 
3 cup of warm water
3 tsp of yeast
2 tsp of sugar
4 tsp of salt
Put the sugar and yeast in a small bowl, cover and let it rise for 5 min.
In a bowl add the flour, salt and the yeast mixture, mix on a medium low speed for about 8-10 min until it's a smooth and creamy looking dough.(at this point the dough is very very sticky but that is the thing that will bring the final result). Oil a large bowl with olive oil and place dough inside, brush the dough and cover. Place warm and let rise until doubling in size.
Put dough on a floured surface and cut in 6 equal pieces. Roll each to a baguette. The more asymmetrical, the better and more rustic. Cover with towel and let double in size again. Put over to 475 F/250 C.  Place a cast iron casserole in the bottom. Place baguette in middle of oven and  quicly add 1 cup of water in casserole under. Baking time is 30 min but this can vary, my oven only needs 2o minutes. Cool before serving if you can stand the temptation… And the smell, oh boy…
The recipe will give you those crunchy and great looking wonders. Follow my advice, you will get them on your table to the delight of your friends and family. If you make a quantity, you can freeze part, as they are best fresh.
PS. You can twist the dough, sprinkle with different seeds if you are i a creative mood..
Annonser
---
Kommentarer