Fish Chermoula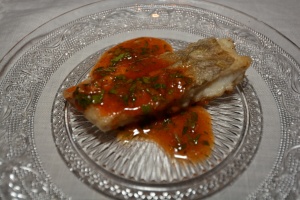 On every day basis, it's important for  me to eat a varied, healthy and above all tasty diet. This dish with the sauce is exactly all of that. It's a North African sauce,  a type of vinaigrette that is used mostly with fresh fried fish or sardines and sea food. I found that you can use it on lightly roasted vegetables, chicken, beans and couscous dishes as well as salads. Its fresh, full of flavour and easy to prepare.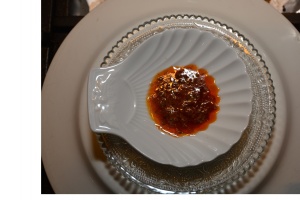 Since my family ate heartily of the sauce, being very popular, I had to use leftovers for the above picture. Thus the smallish quantity -I hope you can still get the idea..
Chermoula is a mixture of oil, lemon juice, herbs, garlic and spices that could be varied from region to region and family to family. Some use preserved lemon, saffron or even ginger. It's one of those sauces that you make in no time, just mix all the ingredients together.
The recipe calls for Harissa (coming soon) which is hot chili pepper paste, again from North Africa. The main ingredients are roasted red pepper, spices and herbs such as garlic,and oil or olive oil mixed together. You can buy it in middle eastern shops.
Chermoula sauce:
1/2 glass of lemon juice
1 tbs of olive oil
1 tsp of crushed garlic
1 flat tsp of harissa
1 flat tsp of sweet paprika
1/2 tsp cumin spice
bundle of  chopped coriander
salt
option: 1 tsp  of pickled chopped lemon (recipe to come soon…)
Quantities can be increased, according to need. The above is enough for 4-5 portions.
.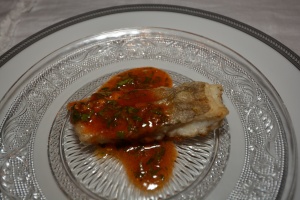 The recipe is from Marylin's wonderful blog mablogeria.blogspot.com. She is a well known blogger with mouth watering recipes.
 Easy, quick, and a slightly different 's! I hope you will enjoy it and it may give you a new food experience!
Annonser
---