The joys of cherry tomatoes
To pickle vegetables, has always fascinated me, it gives them a new life, a different taste and is a way to preserves them. Then there are ways to roast, fry or cook and put them in oil, without properly pickling them.
One dark evening of autumn, I needed something to cheer me up. I felt like playing with a bunch of friendly cherry tomatoes. As I had a quantity of them I decided on something slightly different, something fun and above all, hopefully something tasty. Since I love vegetables and like to make various spreads to complement a meal, this one is a twist that can also be used as a tapas. It is not my original recipe.  I found it on a great blog by the name BISSIM.  I just modified it to suit my taste.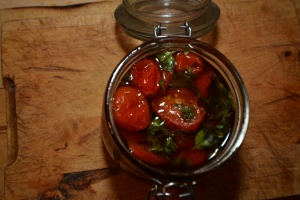 This is not really a recipe. Take a quantity of cherry  tomatoes, mix of colors if you like. The biggest ones can be divided and the rest left whole. Put them in one layer in an oven form and drizzle generously with some olive oil, salt and fresh ground pepper. Add some  balsamic vinegar, a few drops of lemon and grated lemon skin. Then add one or two cloves of garlic, chopped or crushed . Now add fresh thyme or chopped basil leaves. Sprinkle some sugar and put into oven at  180 degrees Celsius. Leave until you think it is ok, usually around 10-20 minutes.
Cool it down and move it to a jar and put it into the fridge.  Leave it preferably for a couple of days before eating. But if you are impatient like me, you can try it out immediately.
It is good on sandwiches, served as tapas, fits to pasta dishes, as part of chicken and fish dishes and the list could go on.
Easy, quick, heartwarming, tasty  – and fun. What more do you expect?
Annonser
---